The greening of jeans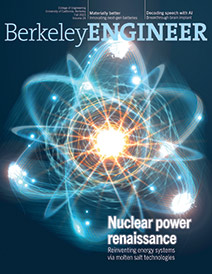 November 6, 2023 by Marni Ellery | Photo courtesy Huue
This article appeared in
Berkeley Engineer
magazine,
Fall 2023
Plastics, batteries and household cleaning supplies are just a few of the consumer goods that researchers are striving to make more eco-friendly. Now, thanks to Berkeley Engineering alum Tammy Hsu (Ph.D.'19 BioE), we can soon add another item: bluejeans.
Indigo is the primary dye used in the manufacture of denim jeans, with over a billion pairs sold worldwide each year. But the current way indigo is created for commercial use relies on chemicals, such as formaldehyde and cyanide, that are toxic to the environment.
Applying the engineering know-how she gained at Berkeley, Hsu set out to produce a more sustainable version of indigo using microbes. In 2019, she co-founded Huue, a company that uses biotechnology to produce environmentally friendly dyes for industry.
Hsu's interest in environmentally friendly processes and sustainable dyes blossomed while working in the lab of John Dueber, associate professor of bioengineering. "There were a lot of interesting projects floating around in their nascent state," she said. "One of them was: how do we make the indigo precursor that's made in plants? How do we introduce that enzyme into microbes, then have the microbes produce it repeatably at large scale, at high purity?"
Soon, denim companies were inquiring about their work. "Different denim brands were starting to call my adviser and say, 'I hear you have this new way of making indigo dye,'" she said. "Currently, there's no good sustainable alternative. So brands were on the lookout for new technologies; the interest from the market was always apparent."
Hsu began to think about starting a business based on her engineered microbe technology. She had grown up in Silicon Valley, "surrounded by a spirit of entrepreneurship," so a startup seemed like the next logical step to bring the product to fruition.
Hsu discovered that she could explore her engineering aspirations while tapping into campus resources to help lay the foundation for her future business, including the Bakar Innovations Fellows program. "My PI [principal investigator], for example, was part of the Bakar Faculty Fellows program, which supports faculty interested in entrepreneurship and getting their ideas out into the world. And there's a grad student branch of the program, the Bakar Innovation Fellows, that I participated in."
Hsu also took a few courses at the Haas School of Business to learn what's involved in forming a startup. She then kicked her business idea into high gear by participating in multiple accelerator programs, including the Bakar BioEnginuity Hub's QB3 program, and applied for a grant from the National Science Foundation. Hsu later teamed up with future Huue co-founder and CEO Michelle Zhu, with whom she joined IndieBio, a venture capital-backed incubator program.
It's been 4 1/2 years since Hsu and Zhu founded Huue, which now has 16 employees, with the majority of the team focused on research and development. And creating sustainable indigo dye is only the first step for the company. Hsu, head of research at Huue, has begun investigating ways other textile dyes could be made using her company's microbe technology.
As she looks ahead, Hsu believes that Berkeley played a vital role in getting her where she is today. "Berkeley allowed me to realize my potential, both as an engineer and as an entrepreneur," she said.
Learn more: Berkeley alum creating a greener future for bluejeans