Pioneering a flexible online degree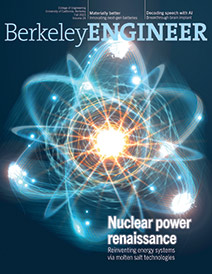 November 6, 2023
This article appeared in
Berkeley Engineer
magazine,
Fall 2023
Our academic year kicked off with the exciting debut of the Master of Advanced Study in Engineering (MAS-E), our newest professional master's degree program at Berkeley Engineering. This fully online program, developed in partnership with online learning platform Coursera, is offered with busy professionals as well as recent science or engineering graduates in mind, meeting an important educational need in the tech sector.
Our newest master's degree program meets an important educational need in the tech sector.
A key feature of the program is that the curriculum comprises one-unit courses spread across five interdisciplinary themes, allowing students a high degree of customization. Students can choose to enroll part- or full-time (at least two semesters must include a minimum of four units each). It's a level of flexibility that helps students keep pace with the dizzying speed of innovation. The explosive growth of generative AI in just the last year exemplifies just how quickly the technology landscape can change.
This MAS-E degree has been many years in the planning. A primary goal was to make a world-class Berkeley Engineering education accessible to a greater diversity of students and working professionals. We recognize that not everyone is able to give up their jobs to earn an advanced degree as a full-time student in an on-campus program. A 2023 online education trends report found that balancing education with existing commitments was a leading motivator for enrolling in an online program for 42% of respondents.
The global pandemic accelerated our efforts to bring the MAS-E program online; we saw firsthand the role remote education can play in students' lives, and we learned more about delivering a great educational experience for those who are unable to attend classes in person.
As one would expect from a high-caliber Berkeley Engineering program, the courses are taught by the same renowned faculty who provide in-person instruction.
Applications opened in September for enrollments beginning next summer. I look forward to welcoming the inaugural class of MAS-E students in 2024!
Fiat Lux!
—Tsu-Jae King Liu
Dean and Roy W. Carlson Professor of Engineering