Engineering Center groundbreaking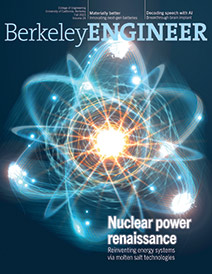 November 6, 2023 by Marni Ellery
This article appeared in
Berkeley Engineer
magazine,
Fall 2023
Amid cheers from hundreds of people, Berkeley Engineering celebrated the groundbreaking of its new Engineering Center in April. The event marked a key milestone toward creating a nexus for student collaboration, innovation and entrepreneurship on campus.
At the ceremony, Chancellor Carol Christ said the new building, slated for completion in early 2025, will prepare students for an increasingly interconnected, fast-paced world through its emphasis on inclusivity, community and cross-disciplinary engagement.
"We need to provide intellectual and actual physical space for engineers to become entrepreneurs, for climate scientists to partner with public health experts, and for computer scientists to work with legal scholars," she said. "This will be a place of possibility where, each year, thousands of engineering students and their peers from across the campus will converge, hear diverse perspectives, and skills will be melded, multiplied and brought to bear on the biggest challenges of our day."
The modern, glass-encased building, designed by architectural firm Skidmore, Owings and Merrill, will feature indoor and outdoor areas specially designed to facilitate group study, club meetings and team projects, as well as to centralize entrepreneurship activities and events.
During the event, Dean Tsu-Jae King Liu reflected on the impact this new space will have on Berkeley Engineering's student body, which has grown significantly since the Bechtel Engineering Center was built 43 years ago. She said the Engineering Center's collaborative environment will prove "transformative" for students by driving innovation and fostering connections across disciplines.
"Here on this site, students will learn, collaborate and innovate — whether it's to design, build and launch high-powered rockets or to advance the forefront of 3D bioprinting for applications in reconstructive medicine," she said. "Magic happens when people from different backgrounds with diverse perspectives are given space and support to interact with each other day to day, year to year."
Learn more: UC Berkeley breaks ground on new Engineering Center (Berkeley News)