New online master's degree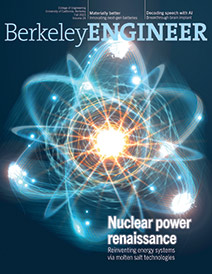 November 6, 2023
This article appeared in
Berkeley Engineer
magazine,
Fall 2023
Berkeley Engineering has launched a new multidisciplinary, professional degree program, the Master of Advanced Study in Engineering (MAS-E), for professionals seeking "knowledge upgrades" in STEM fields. The fully online program, developed and offered in partnership with Coursera, is designed to help engineers keep pace with the speed of innovation and evolve their skills in a world driven by technological change — often while holding down a full-time job.
The MAS-E curriculum comprises one-semester-unit courses that draw content from Berkeley Engineering's top-ranked engineering programs, providing academic rigor with flexibility. Taught by Berkeley faculty, the lectures will be pre-recorded and available anytime to students for asynchronous and self-paced study. Students may enroll in the program full-time or part-time and have up to four years to complete the degree requirements. Applications for the program opened this fall.
According to Tarek Zohdi, associate dean for research and faculty director of the MAS-E degree program, the new program reflects the growing interdisciplinary nature of modern engineering — and the evolving need for engineering leaders with the latest, state-of-the-art technological expertise.
"The MAS-E degree is uniquely designed to help engineers expand their knowledge and skill sets, and step into leadership roles in which they successfully direct projects and organizations in global environments that cross disciplinary boundaries," he said.
Learn more: Berkeley Engineering to offer new online master's degree for career growth