Facility reservations
Listed below are areas that may be reserved through the Berkeley Engineering facility reservation system.
The College of Engineering has added outdoor areas to the traditional list of indoor reservable spaces within its purview. These new outdoor areas may be reserved by College of Engineering faculty members, at no cost, for research group meetings and other university-related activities.
All participants using these facilities must have a green badge with the University Health Services COVID-19 surveillance system indicating that they are cleared to come to campus. It will be the responsibility of the instructor to verify this.
To reserve an outdoor space:
Use the CoE Facility Reservations page to reserve a meeting space. The reservation confirmation message will include the combination codes for you to access cleaning supplies stored in lock boxes at each outdoor meeting area. Instructors are responsible for depositing all waste materials in an appropriate waste receptacle and returning unused cleaning supplies to the appropriate lock box.
Any issues with an outdoor seating area should be reported to coe-facilities@berkeley.edu.
Outdoor space usage guidelines:
The occupancy limit for each meeting area is listed below.
Instructors must verify the green badge status of each participant before class begins.
Each meeting participant must wear a mask at all times.
Meeting participants must maintain a minimum physical distance of 6 feet at all times.
Instructors should plan to end each class meeting 5 minutes before the hour or the half-hour, to allow adequate time for students to safely leave the meeting area before the next class meeting.
Instructors must have card-key access to their home department building in case students need to use a restroom. Instructors who do not currently have building access should send their card-key information to their building coordinator.
Contact
College of Engineering Facilities Office
205 McLaughlin Hall # 1700
College of Engineering
Berkeley, CA 94720-1700
coe-facilities@berkeley.edu
Fax: (510) 642-7654
Hours: M-F 8 a.m.–noon and 1–4 p.m.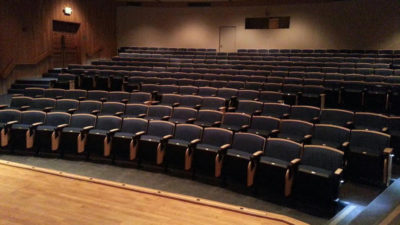 Sibley Auditorium, Bechtel Engineering Center
Capacity: 227 seats, 5 ADA
No food or drinks
Fee: $125 per hour; two hour minimum
Equipment: computer projector, lapel microphone, handheld microphone
All outdoor meeting spaces have no A/V equipment installed (beyond AirBears2 WiFi access), and do not require a fee for use.