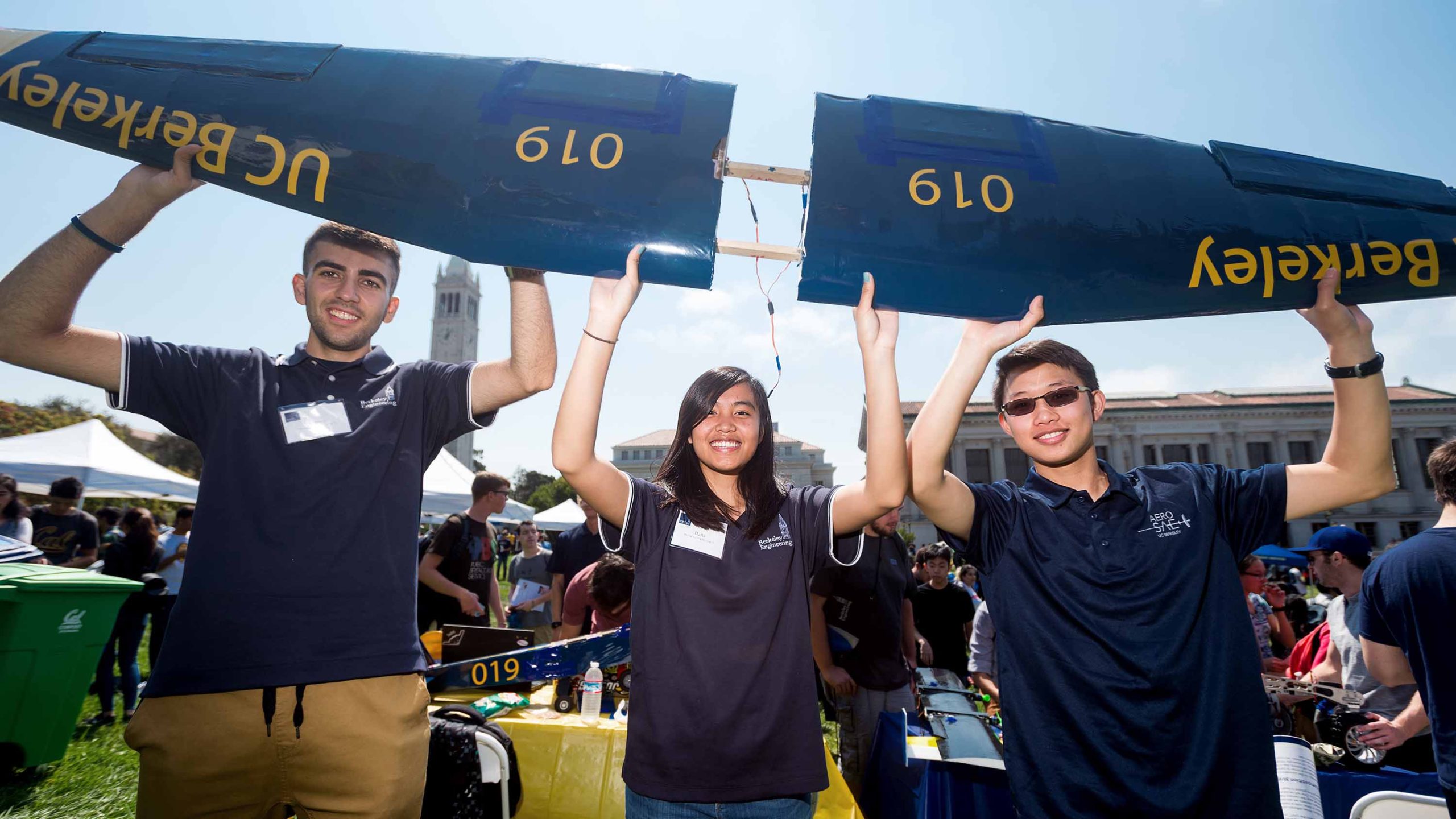 Teams and organizations
Contact
Engineering Student Services
230 Bechtel Engineering Center
Berkeley, CA 94720-1702
(510) 642-7594
ess@berkeley.edu
Hours:
Monday – Thursday, 8 a.m.–5 p.m.
Friday, 10 a.m.–5 p.m.
Are you looking to connect with other students who share your interests? Do you want to find partners for a start-up or join a community service project? Berkeley Engineering is home to over 85 different student organizations that help members hone teamwork and leadership skills, foster a diverse community, provide cultural support and give students the opportunity to pursue something they're passionate about.
The student-led Engineering Student Council (ESC) is the engineering student government; groups in the ESC's network are marked with an asterisk (*). The LEAD Center maintains a complete list of UC Berkeley student organizations and explains how you can start your own student organization. Also check our directory of social media channels for Berkeley Engineering groups.
Students helping students
Academic and professional
Culture and identity
Entrepreneurship
Design, make, hack
School, community and global outreach
Competitions
Honorary organizations
(see below for membership information)
Fraternities and sororities
Graduate students
For more student groups, visit the campus LEAD Center.
For more student-run courses, visit DeCal.
Honorary organizations: How are members chosen?
Membership in one of Berkeley Engineering's honorary student organizations reflects outstanding academic achievement and service to the collegiate community. Students are invited into these societies according to the following procedures, which ensure the university's compliance with the Federal Educational Rights and Privacy Act (FERPA).
No later than the first day of classes for the fall semester, engineering honorary organizations email Engineering Student Services (ESS) at ess@berkeley.edu with current contact information for their membership officer(s).
Each honorary organization drafts an email invitation to be sent to all students who meet their membership criteria (e.g., major, number of units completed, GPA). The organization emails the draft invitation to ESS with the honorary organization's name in the subject line.
Each honorary organization sends a current membership roster to ESS so that current members can be distinguished from potentially eligible new members.
Approximately four weeks into the fall semester, ESS receives an enrollment data report from the registrar. ESS uses this data to determine which students are eligible for membership in each honorary organization.
ESS invites eligible students using the email invitations drafted by the honorary organizations. Each message instructs the invited student to confirm his or her acceptance directly with the relevant honorary organization.