New & noteworthy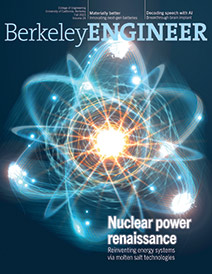 November 6, 2023
This article appeared in
Berkeley Engineer
magazine,
Fall 2023
Forbes has named Alice Agogino (M.S.'78 ME), mechanical engineering professor emeritus, to its "50 Over 50" list in the innovation category for her work as the co-founder and CEO of Squishy Robotics. Elizabeth Hausler (M.S.'98, Ph.D.'02 CEE), founder and CEO of Build Change, was also named to the list in the impact category.
Electrical engineering and computer sciences professor Venkat Anantharam (Ph.D.'86 EECS) has won the 2023 IEEE Information Theory Society Paper Award, along with former postdoctoral fellow Cheuk-Ting Li, now an assistant professor at the Chinese University of Hong Kong.
Alper Atamturk, professor of industrial engineering and operations research, has been honored with the Farkas Prize by the INFORMS Optimization Society. The award recognizes a mid-career researcher for outstanding contributions to the field of optimization over the course of their career.
Eight Berkeley Engineering graduate students were selected as Siebel Scholars, a program that awards grants of $35,000 to select students based on their academic achievement and leadership: Cindy Ayala, Arjun Bhorkar, Ruiming Cao, Sita Srinivasan Chandrasekaran, Cameron Tadashi Kato, Andre Lai, Sandeep Mukherjee and Anish Muthali.
Thomas Azwell, director of the Sutardja Center for Entrepreneurship and Technology's Disaster Lab, was awarded the 2023 Chancellor's Award for Public Service in faculty-community engaged teaching for his work with underserved communities in the Bay Area.
Christopher Barry (B.S.'82 IEOR) has retired after 33 years at FedEx. During the first half of his career, he planned, designed and implemented facilities, operations and flights to support the FedEx Express network; he then worked as a supply chain consultant to FedEx's larger customers.
Electrical engineering and computer sciences professor emeritus Ruzena Bajcsy was awarded the Berkeley Citation, the university's highest honor. The citation is awarded to distinguished individuals whose contributions to UC Berkeley go beyond the call of duty and whose achievements exceed the standards of excellence in their fields. Bajcsy, whose career spans over 50 years, has conducted seminal research in the areas of human-centered computer control, cognitive science, robotics, computerized radiological/medical image processing and computer vision. The founding director of CITRIS, she is a member of the National Academy of Engineering as well as the National Academy of Medicine.
Dimitri Bevc (M.S.'89 MSE) was appointed a Chevron Fellow, the corporation's highest technical recognition, for his significant contributions to the fields of geophysics and seismic imaging.
Elizabeth Cantwell (M.S.'83, Ph.D.'92 ME) is the new president of Utah State University. Previously, she was the senior vice president for research and innovation and a professor of aerospace engineering at the University of Arizona.
Materials science and engineering professor Gerbrand Ceder has won the William Hume-Rothery Award from the Minerals, Metals & Materials Society in recognition of his contributions to the science of alloys.
Joshua Chen (B.S.'17 BioE) recently completed his Ph.D. at Rice University and was selected as a 2023 Schmidt Science Fellow. Working out of the Shapiro Lab at the California Institute of Technology, he will push the boundaries for wireless control of cell function and biology, aiming to treat diseases such as neurodegeneration.
Iain Clark (Ph.D.'14 CEE), assistant professor of bioengineering, was selected as an innovation investigator by the Arc Institute. He was awarded $1 million to pursue "curiosity-driven" research. His lab is currently focused on understanding how HIV evades the immune system and elucidating cellular interactions that control neurologic diseases.
Marie desJardins (Ph.D.'92 CS) was elected as a 2022 Fellow of the American Association for the Advancement of Science. After serving as inaugural dean of the College of Organizational, Computational, and Information Sciences at Simmons University from 2018–22, she retired last year and is currently serving on several boards.
Alexei Efros (M.S.'99, Ph.D.'03 CS), professor of electrical engineering and computer sciences, has won the Thomas S. Huang Memorial Prize by IEEE Transactions on Pattern Analysis and Machine Intelligence. The prize recognizes exemplary research, teaching, mentoring and service to the computer vision community.
Bioengineering professor Daniel Fletcher was honored with the 2023 Carol D. Soc Distinguished Graduate Student Mentoring Award.
Ashok Gadgil, professor of civil and environmental engineering, was named the winner of R&D Magazine's Leader of the Year Award for "creating technological innovations for safe drinking water, clean air, sustainable energy and reduced infant mortality, profoundly benefiting the health and dignity of low-resource communities."
Three faculty members have been selected for the Bakar Fellows Spark Awards: associate professor Sanjam Garg and professor Ronald Fearing from the Department of Electrical Engineering and Computer Sciences, and professor Phillip Messersmith from the Department of Bioengineering and the Department of Materials Science and Engineering.
Allen Goldstein, professor of civil and environmental engineering and of environmental science and policy and management, has received the California Air Resources Board's Haagen-Smit Clean Air Award, which recognizes individuals who have contributed substantially to improving air quality or addressing climate change.
Electrical engineering and computer sciences professor Shafi Goldwasser (M.S.'81, Ph.D.'84 EECS) has been elected as a foreign fellow of the Royal Society, the United Kingdom's national academy of sciences and the oldest science academy in continuous existence.
Michael Gollner, associate professor of mechanical engineering, is the recipient of the International Association of Wildland Fire's 2023 Early Career Award in Fire Science, which recognizes a promising early-career professional who has demonstrated outstanding ability in any field of wildland fire science.
Grace Gu, assistant professor of mechanical engineering, has been selected as the inaugural recipient of the Lawrence Livermore National Laboratory Early Career UC Faculty Initiative. She will receive up to $1 million in funding over five years to support a research project that seeks to advance AI-driven manufacturing for metal-ceramic composite structures.
Computer science professor Venkatesan Guruswami has won the 2023 Guggenheim Fellowship for his research proposal on mathematical computer science titled, "Mathematical Structure and Efficient Algorithms: The Polymorphic Gateway."
Computer science professor Joseph Hellerstein (M.S.'92 EECS) was awarded the 2023 SIGMOD Edgar F. Codd Innovations Award for "innovative contributions in extensible query processing, interactive data analytics, and declarative approaches to networking and distributed computing."
NASA astronaut Warren "Woody" Hoburg (M.S.'11, Ph.D.'13 EECS) has completed his six-month mission with the Crew-6 astronauts at the International Space Station National Laboratory. "Every day on station is unique and different," he said. "We could be doing anything from spending all day in a glovebox doing science experiments to doing science on ourselves, it's all incredible."
Susan Hou (B.S.'94 CE), deputy bureau manager for the San Francisco Public Utilities Commission, has received the American Society of Civil Engineering's Outstanding Projects and Leadership Award for "innovation and excellence in construction of civil engineering projects and programs." In 2017, she also received Top 25 Newsmaker Award from the Engineering News Record.
William Ibbs (Ph.D.'80 CE), professor emeritus of civil and environmental engineering, was elected as an American Society of Civil Engineers Fellow in honor of his significant contributions, including service on the California High Speed Rail Oversight Committee.
Electrical engineering and computer sciences professor Kurt Keutzer has received a Design Automation Conference Most Influential Paper Award for his 1987 paper, "Dagon: Technology Binding and Local Optimization by DAG Matching."
Kevin Kiyoi (B.S.'96 CE), a math and science teacher at Amador Valley High School, was named Pleasanton Unified School District's 2023 Teacher of the Year. He is the lead teacher for the school's career technology pathway, a member of the district's equity committee and has spearheaded numerous outreach efforts to introduce computer science to underrepresented students.
Paul Krueger (B.S.'97 ME) is the new dean of the College of Engineering at the University of North Texas. Previously, he was a mechanical engineering professor at Southern Methodist University.
Sam Kumar (B.S.'17, M.S.'20, Ph.D.'23 EECS) will join the UCLA engineering faculty as an assistant professor in July 2024. His research interests lie in system security and networked systems.
Ann Lee-Karlon (B.S.'89 BioE), CEO and president of EpiBiologics, and Sonita Lontoh (B.S.'99 IEOR), board director for SunRun and TrueBlue Inc. and Sway Ventures advisor, have been named to the San Francisco Business Times' 2023 list of "Most Influential Women in Bay Area Business."
Electrical engineering and computer sciences professor Michael Lustig and Stanford radiology professor Shreyas Vasanawala have won the Society for Pediatric Radiology Pioneer Award "for their collaborative work in ushering in a new era of cardiovascular and body MR innovations designed for the pediatric patient, bringing us closer to a dedicated pediatric MR scanner system."
Materials science and bioengineering professor Phillip Messersmith and materials science professor Kristin Persson have been named 2023 Fellows by the Materials Research Society. Persson has also won the Cyril Stanley Smith Award from the Minerals, Metals & Materials Society for outstanding contributions to the science and/or technology of materials structure.
Randy McCourt (M.S.'79 CE) was recognized by the Institute of Transportation Engineers as an Honorary Member, the organization's highest recognition of outstanding professional achievements.
The American Concrete Institute has named civil and environmental engineering professor Jack Moehle as an honorary member.
Jelani Nelson, professor of electrical engineering and computer sciences, has received the 2023 ACM-SIGACT Distinguished Service Award for his "outstanding contributions to broadening participation in computer science, and in theoretical computer science in particular."
Civil and environmental engineering professor Claudia Ostertag (Ph.D.'85 MSE) received the Scientist Medal Award from the International Association of Advanced Materials in recognition of her contributions to composites engineering and applications.
Inioluwa Deborah Raji (Ph.D.'26 CS) and Stuart Russell, professor of electrical engineering and computer sciences, were named to Time magazine's list of "100 Most Influential People in AI."
Gireeja Ranade (M.S.'09, Ph.D.'14 EECS), Yakun Sophia Shao and Grigory Tikhomirov — all assistant professors of electrical engineering and computer sciences — and Hannah Stuart, assistant professor of mechanical engineering, have been recognized with Faculty Early Career Development (CAREER) awards from the National Science Foundation.
Rhonda Righter (Ph.D.'86 IEOR), professor of industrial engineering and operations research, has been elected as a 2023 Fellow of the Institute of Operations Research and Management Science. Maged Dessouky (Ph.D.'92 IEOR), professor and chair of the Department of Industrial and Systems Engineering at the University of Southern California, was also elected.
David Rogers (M.S.'79, Ph.D.'82 CE), professor of geological engineering at the Missouri University of Science and Technology, was awarded the Civil Engineering History and Heritage Award from the American Society of Civil Engineers (ASCE) in recognition of his 30 years as a recognized expert on the history of dam failures, significant publications on civil engineering history topics and his many ASCE conference presentations.
Boris Rubinsky, Professor of the Graduate School at the Department of Mechanical Engineering and professor emeritus of bioengineering, has won the H.R. Lissner Medal from the American Society of Mechanical Engineers.
Electrical engineering and computer sciences professor Stuart Russell has won the AAAI Allen Newell Award from the Association for Computing Machinery, which is given to individuals who have made significant contributions to the field of artificial intelligence.
Emilia Sánchez (B.S.'06 CE) has been appointed the director of engineering for the Port of Oakland. She is the first woman and the first Latina to serve in this leadership position at the port. Previously, she spent over a decade at Bay Area Rapid Transit (BART), where she served in various positions.
Alane Suhr, assistant professor of electrical engineering and computer sciences, has received an honorable mention for the ACM Doctoral Dissertation Award for making "transformative contributions in several areas of natural language processing."
Kirk Tramble (B.S.'93 EECS) is the new president of the California Alumni Association's board of directors. A technology consultant, he is also the president emeritus of UC Berkeley's Black Engineering and Science Alumni Club.
Industrial engineering and operations research assistant professor Rajan Udwani has been awarded a Google Research Scholar Award in recognition of his proposal on algorithms and optimization.
Marlene Watson (M.S.'92 CEE) has won the 2023 Ely S. Parker Award, the highest professional honor conferred by the American Indian Science and Engineering Society. She is currently a civil engineer with the U.S. Department of the Interior Bureau of Indian Affairs.
Clancy Wilmott, assistant professor of geography and faculty member of the Berkeley Center for New Media, received a Graduate Assembly Faculty Mentoring Award.
The Committee of Presidents of Statistical Societies has selected Bin Yu, professor of electrical engineering and computer sciences and of statistics, for the 2023 Distinguished Achievement Award and Lectureship.
---
SEND YOUR CLASS NOTES to berkeleyengineer@berkeley.edu, submit at engineering.berkeley.edu/update or mail to: Berkeley Engineer magazine, 201 McLaughlin Hall #1704, Berkeley, CA 94720-1704