With flexibility comes possibility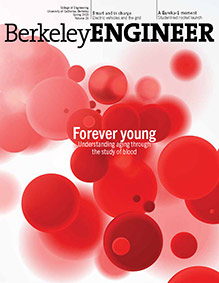 May 17, 2023
This article appeared in
Berkeley Engineer
magazine,
Spring 2023
Berkeley Engineering is known for expanding the bounds of knowledge and possibility. We're a research university that is synonymous with discovery — a feat made possible thanks to the boundless curiosity of our faculty.
That's why we've made it our mission to attract the top talent. To make that happen, our newest faculty receive competitive startup packages that enable them to grow in their fields.
Take Michael Gollner, associate professor of mechanical engineering and a Deb Faculty Fellow, who leads the Berkeley Fire Research Lab. His fellowship gave him the "freedom and flexibility" to buy the equipment and build the team that investigates how fires spread. "Having the fellowship gives you that buffer to try new things, to experiment, to expand, even to take on a different area," he said. "That kind of security allows you to take some risks with research and try new things that you can't do otherwise."
Funding for these faculty fellowships is the spark that will ignite the most important discoveries of the future. Your contribution will have a profound impact on our newest faculty members and their innovations.
To learn more, visit: engineering.berkeley.edu/give