As tough as they come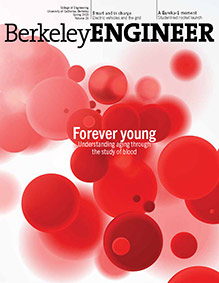 May 17, 2023
This article appeared in
Berkeley Engineer
magazine,
Spring 2023
As far as materials go, a class of metals called high entropy alloys (HEAs), made of an equal mix of each constituent element, are among the toughest. Now, a research team led by Robert Ritchie — professor of materials science and engineering and of mechanical engineering, and senior faculty scientist at Berkeley Lab — has measured the highest toughness ever recorded, of any material, while investigating an HEA alloy made of chromium, cobalt and nickel (CrCoNi). Not only is the metal extremely ductile (highly malleable) and strong (resistant to permanent deformation), its strength and ductility improve as it gets colder. This runs counter to most other materials in existence.
Using neutron diffraction, electron backscatter diffraction and transmission electron microscopy, the scientists examined lattice structures of CrCoNi samples that had been fractured at room temperature and at 20 kelvin. The images and atomic maps generated from these techniques revealed that the alloy's toughness is due to a trio of dislocation obstacles that come into effect in a particular order when force is applied to the material. This sequence of atomic interactions ensures that the metal keeps flowing, but also keeps meeting new resistance from obstacles far past the point that most materials snap from the strain.
Now that the inner workings of the CrCoNi alloy are better understood, it and other HEAs are one step closer to adoption for special applications. The researchers say these findings, taken with other recent work on HEAs, may also compel scientists to reconsider long-held notions about how physical characteristics give rise to performance.
Learn more: Say hello to the toughest material on Earth (Berkeley Lab); Exceptional fracture toughness of CrCoNi-based medium- and high-entropy alloys at 20 kelvin (Science)