Keep it cool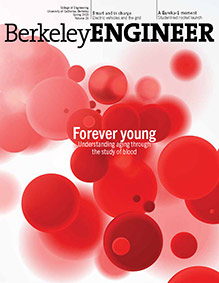 May 17, 2023
This article appeared in
Berkeley Engineer
magazine,
Spring 2023
Salt has been long used to prevent ice from forming on roads by lowering the freezing point of water. Now, mechanical engineering Ph.D. student Drew Lilley and adjunct professor Ravi Prasher, working with Berkeley Lab researchers, have used this same concept to develop a new method of heating and cooling. Known as ionocaloric cooling, the technique has the potential to compete with or even exceed the efficiency of gaseous refrigerants found in the majority of systems today. It could also help phase out refrigerators and air conditioners that rely on hydrofluorocarbons (HFC) refrigerants, which emit powerful greenhouse gases.
To provide cooling, the method uses ions to drive solid-to-liquid phase changes. The ionocaloric cycle causes this phase and temperature change through the flow of ions (electrically charged atoms or molecules) which come from a salt. Running current through the system moves the ions, changing the material's melting point. When it melts, the material absorbs heat from the surroundings, and when the ions are removed and the material solidifies, it gives heat back. Using a liquid has the added benefit of making the material pumpable, making it easier to get heat in or out of the system, something solid-state cooling has struggled with.
To demonstrate the technique, Lilley used a salt made with iodine and sodium, alongside ethylene carbonate, a common organic solvent used in lithium-ion batteries. The first experiment showed a temperature change of 25 degrees Celsius using less than one volt, a greater temperature lift than demonstrated by other caloric technologies. The team is continuing work on prototypes to determine how to scale the technique and improve the temperature change and efficiency.
Learn more: Berkeley Lab scientists develop a cool new method of refrigeration (Berkeley Lab); Ionocaloric refrigeration cycle (Science)