A Eureka-1 moment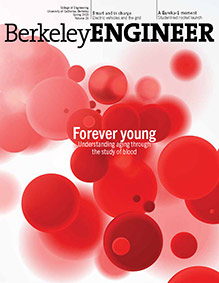 May 17, 2023 by Caitlin Kelley | Photo courtesy SEB
This article appeared in
Berkeley Engineer
magazine,
Spring 2023
"Let's light this candle!" yelled Benjamin Tait (B.S.'23 EECS), the since-graduated chief engineer for Space Enterprise at Berkeley (SEB). On the count of five, Eureka-1 shot up into the sky to the loud cheers of the undergraduate throng.
The December launch of this liquid-fueled rocket hit a high point of 11,000 feet in altitude. Now that college teams are competing to cross the Kármán line, you could say that SEB — largely composed of Berkeley Engineering students, including half the roster from the new aerospace major — is already on their way there.
Three years in the making, Eureka-1 was entirely designed by the student club in a process that took between $65,000 to $75,000. (If you were to build the rocket from scratch with the final formula, it would take between $8,000 to $10,000.) "One of the cool things about SEB is that we try to do everything ourselves," said Lilly Etzenbach, SEB's chief executive officer and a junior in mechanical engineering. "I'd say most people who are in the club want some kind of aerospace career."
So it helps that the student team can build experience — and make a few discoveries along the way. Take their engine's pintle cap. The initial plan was to build the propellant mixer out of steel. "The pintle is in the middle of the engine," Etzenbach said. "So it gets super hot." The thinking was that steel's high-melting point would withstand intense burns. Wrong! While SEB scrambled to dream up a replacement, they landed on a peculiar idea. Perhaps copper could take the heat in spite of its much lower melting point, given its higher thermal conductivity. "It worked," she continued. "Copper pintle caps are still something we use." Call that a Eureka moment.
Still, the 60-plus member team's work is not over. "The goal of Eureka-1, initially, was to go to space," Etzenbach said. "We realized that wasn't possible. So very early on, we decided that Eureka-3 would be the space shot."
Looking to the future, the aerospace-minded team is plotting a recovery system for their next model, Eureka-2, which is set to launch in September. "We're aiming for 20,000 feet, which would pave the way to Eureka-3 and space," the SEB president said.
Then it's blue skies and bright stars for Eureka-3, taking off in Spring 2026.