Stopping traffic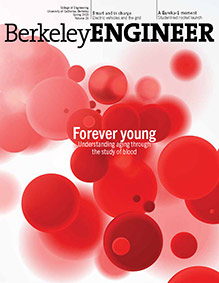 May 17, 2023
This article appeared in
Berkeley Engineer
magazine,
Spring 2023
Many traffic jams are caused by small behaviors: a slight tap on the brakes can ripple through a line of cars, triggering a slowdown or even gridlock. But in a massive traffic experiment, more than 50 scientists from the CIRCLES Consortium — including 18 Berkeley Engineering students, postdoctoral researchers, staff and faculty — tested whether introducing just a few AI-equipped vehicles to the road can help ease these jams and reduce fuel consumption for everyone. The answer seems to be yes.
Over five days, researchers deployed a fleet of 100 vehicles onto a busy stretch of I-24 in Nashville during the morning commute. Each vehicle was equipped with an AI-powered cruise control system designed to automatically adjust the speed of the vehicle to improve the overall flow of traffic. Trained drivers took the AI-powered vehicles on a stretch of the interstate that has been equipped with a dense high-res video camera network to monitor traffic. As the drivers traversed their route, researchers collected traffic data from both the vehicles and the I-24 MOTION traffic monitoring system.
"Our preliminary results suggest that, even with a small proportion of these vehicles on the road, we can effectively change the overall behavior of traffic," said Alexandre Bayen, professor of electrical engineering and computer sciences. "The game changer here was the coordination — the fact that the vehicles leverage each other's presence and can react preemptively to downstream traffic conditions."
Berkeley researchers have taken the lead in developing machine learning algorithms that govern how fast AI-powered vehicles should go. The new technology incorporates information about traffic conditions and adjusts the speed to help smooth the overall flow of traffic.
The experiment also demonstrated a new feature developed by the CIRCLES team: the ability to simultaneously push collaborative algorithms to different car platforms (Nissan, GM and Toyota). The team is now in the process of planning how the technology can be deployed in California.
Learn more: Massive traffic experiment pits machine learning against 'phantom jams' (Berkeley News)