New & noteworthy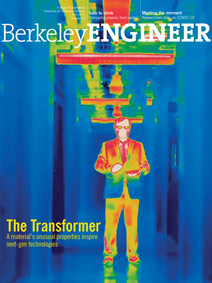 November 5, 2020
This article appeared in
Berkeley Engineer
magazine,
Fall 2020
Mechanical engineering professor Alice Agogino (M.S.'78 ME) was named one of the top 10 women in the robotics industry by Analytics Insight for her research on squishy robots at the Berkeley Emergent Space Tensegrities Lab. She was also the winner of the 2020 WITI@UC Athena Award in Academic Leadership.
The American Chemical Society has selected Paul Alivisatos, professor of materials science and engineering and of chemistry, as the recipient of the 2021 Priestley Medal, the society's highest honor.
Electrical engineering and computer sciences professors Murat Arcak, Kameshwar Poolla and Claire Tomlin (Ph.D.'98 EECS) have been named 2020 Fellows of the International Federation of Automatic Control.
Adda Athanasopoulos-Zekkos (M.S.'04, Ph.D.'08 CE), assistant professor of civil and environmental engineering, has received the 2020 TC203 Young Researcher Award. She was also elected president of the U.S. Universities Council on Geotechnical Education and Research.
Popular Mechanics has named Ruzena Bajcsy, professor of electrical engineering and computer sciences, as one of 37 women who "upended science, tech and engineering for the better." She also won the 2020 NCWIT Pioneer in Tech Award.
Gah-Yi Ban (M.S.'08, Ph.D.'12 IEOR), assistant professor of management science and operations at the London Business School, and Auyon Siddiq (M.S.'14, Ph.D.'18 IEOR), assistant professor of decisions, operations and technology management at the UCLA Anderson School of Management, were recognized on Poets&Quants' annual list of "World's Best 40 Under 40 MBA Professors."
Timothy Brathwaite (M.S.'14, Ph.D.'18 CEE) earned the first place Eric Pas Dissertation Prize from the International Association for Travel Behavior, an award that highlights the work of exceptional new talent within the field of travel behavior research.
Mechanical engineering professors Jyh-Yuan Chen, Robert Dibble and Michael Frenklach were elected fellows of the Combustion Institute for their outstanding contributions to the field.
Chen-Nee Chuah (M.S.'97, Ph.D.'01 EECS) has won the UC Davis ADVANCE Scholar Award, which honors faculty members for advancing diverse perspectives and gender equity in STEM. The award also recognizes her research achievements in electrical and computer engineering.
Tejal Desai (Ph.D.'98 BioE), bioengineering professor in residence at UC Berkeley and chair of the UCSF Department of Bioengineering & Therapeutic Sciences, was named a fellow of the National Academy of Inventors.
Reginald DesRoches (B.S.'90 ME, M.S.'92, Ph.D.'97 CEE) has become the provost of Rice University. Previously, he served as dean of the university's George R. Brown School of Engineering.
A team of Berkeley Engineering graduate students — Emilien Etchevers, Kieran Janin, Michael Karpe, Remi Le Thai and Haley Wohlever — won the 2020 Google Cloud and NCAA March Madness Analytics Competition, hosted through Kaggle. Though this year's March Madness tournaments were cancelled due to COVID-19, the team used machine learning to analyze data from previous seasons in order to uncover the "madness" behind the famous men's and women's college basketball tournaments.
Gregory Fenves (M.S.'80, Ph.D.'84 CEE), former professor and chair of UC Berkeley's Department of Civil and Environmental Engineering, was named president of Emory University.
Mechanical engineering professor Michael Frenklach was awarded the Jürgen Warnatz Gold Medal by the Combustion Institute.
Ritu Garg (B.S.'12 CE) has been named by the Women's Engineering Society in the United Kingdom as one of the top 50 women in engineering for her work in sustainability. She works at Arup in London as a senior transport planner.
Andrea Goldsmith (B.S.'86, M.S.'91, Ph.D.'94 EECS), dean of the School of Engineering and Applied Science and an electrical engineering professor at Princeton University, became the first woman to receive the Marconi Prize, the highest honor in telecommunications research. Her research interests are in information theory, communication theory and signal processing and their application to wireless communications, interconnected systems and neuroscience. Goldsmith holds 29 patents; co-founded two companies, Plume and Quantenna; and is a member of the National Academy of Engineering and the American Academy of Arts and Sciences. She is donating the $100,000 award back to the Marconi Society to start an endowment for technology and diversity initiatives. (Photo by Adriel Olmos)
Bethany Goldblum (M.S.'05, Ph.D.'07 NE), a researcher in the Department of Nuclear Engineering and executive director of the Nuclear Science and Security Consortium, is the 2020 recipient of the Krell Institute's James Corones Award in Leadership, Community Building and Communication.
Mechanical engineering assistant professor Michael Gollner is a recipient of the 2020 Hiroshi Tsuji Early Career Researcher Award.
Grace Gu, assistant professor of mechanical engineering, was selected as a 2020 Outstanding Young Manufacturing Engineer by the Society of Manufacturing Engineers.
Kory Hedman (M.S.'08, Ph.D.'10 IEOR), associate professor of electrical engineering at Arizona State University, is the new director of the Power Systems Engineering Research Center, a 12-university research consortium.
Assistant professor of bioengineering Patrick Hsu has won the Rainwater Prize for innovative early career scientist.
Vikram Iyer (B.S.'15 EECS) has won a Marconi Society Paul Baran Young Scholar Award. He is now a graduate student at the University of Washington, where his research focuses on bio-inspired and bio-integrative wireless sensor systems.
Michael Jordan, professor of electrical engineering and computer sciences and of statistics, received an honorary doctorate from Yale University, the most significant recognition conferred by its board of trustees.
Daniel Kammen, professor of nuclear engineering, energy and resources and public policy, has been elected to the American Academy of Arts and Sciences.
Dean Tsu-Jae King Liu was selected for the 2020 Chang-Lin Tien Award for Leadership in Education from the Asian Pacific Fund. In addition to this honor, the organization is awarding a grant to establish a Chang-Lin Tien Scholarship Fund.
Ron Klemencic (B.S.'85, M.S.'86 CE), chairman and CEO of Magnusson Klemencic Associates, has been elected to the American Society of Civil Engineers' 2020 Class of Distinguished Members.
Laurel Larsen, associate professor of civil and environmental engineering and of geography, has been appointed by the Delta Stewardship Council as its lead scientist.
Ming Lin (B.S.'88, M.S.'91, Ph.D.'93 EECS) has been elected to the Association for Computing Machinery Special Interest Group on Graphics and Interactive Techniques Academy. She is currently chair of the computer science department at the University of Maryland.
Sonita Lontoh (B.S.'99 IEOR) has been selected as an inductee in the inaugural class of the National Women in Manufacturing Association's Hall of Fame. She is currently the senior vice president and global head of marketing, 3D print and digital manufacturing at Hewlett-Packard.
Yi Ma (M.S.'97, Ph.D.'00 EECS), professor of electrical engineering and computer sciences, is among the Class of 2020 Fellows of the Society for Industrial and Applied Mathematics. He was cited for contributions to the theory and algorithms for low-dimensional models and their applications in computer vision and image processing.
Mechanical engineering Ph.D. student George Moore has won the 2019–20 Robert J. and Mary Catherine Birgeneau Recognition Award for Service to Underrepresented Students, one of the Chancellor's Awards for Public Service.
Daniel Mote (B.S.'59, M.S.'60, Ph.D.'63 ME), former professor and chair of the Department of Mechanical Engineering, was awarded the 2020 Benjamin Franklin Medal for his "outstanding contributions…to the understanding of the dynamics of practical systems such as saws, skis and conveyer belts."
Assistant professor of electrical engineering and computer sciences Rikky Muller (Ph.D.'13 EECS) has won a 2020 McKnight Technological Innovations in Neuroscience Award. She has also been selected as one of ten Rising Stars in Computer Networking and Communications in 2020 by N2 Women, a discipline-specific community of researchers in the fields of networking and communications.
Fast Company has recognized Collective Obscura as a 2020 World Changing Idea of the Year finalist, in a category that received over 3,000 entries. Collective Obscura, a project by graduate students Eleni Oikonomaki and Bryan Truitt, is a series of wearables that block facial recognition technology. The group was a recipient of the Fall 2019 Innovation Catalysts grant from the Jacobs Institute for Design Innovation.
Mechanical engineering professor Panayiotis Papadopoulos (M.S.'87, Ph.D.'91 CE) won the 2020 Berkeley Faculty Service Award, given to a member of the Berkeley Division of the Academic Senate for outstanding and dedicated service to the campus.
Harshita Pilla (B.S.'16 CE), who is pursuing a dual MBA/Master in Urban Planning at the University of Michigan, launched MBA Students Care: Fundraiser for Color of Change, to support civil rights advocacy.
Kris Pister (M.S.'89, Ph.D.'92 EECS), professor of electrical engineering and computer sciences, has been named the new faculty director of the Marvell Nanofabrication Laboratory.
Mechanical engineering professor Kameshwar Poola has been awarded the prestigious 2020 O. Hugo Schuck Best Paper Award by the American Automatic Control Council. This is his second time to win this award.
Stephany Prince has been named the executive director of the Coleman Fung Institute for Engineering Leadership.
The Royal Society has selected Ramamoorthy Ramesh (Ph.D.'87 MSE), professor of materials science and engineering and of physics, as a foreign fellow. Membership in the Royal Society, founded in 1660, is considered one of the most prestigious honors in the world's scientific community. His work has led to the development of nanosized materials that can power increasingly small but sophisticated electrical devices with minimal amounts of energy. Ramesh created multiferroic materials that demonstrate both electric and magnetic polarization when exposed to an outside field and, with Intel, invented "magneto-electric spin-orbit" (MESO) logic devices. (Photo by Jason Richards/Oak Ridge National Laboratory)
Civil and environmental engineering professor James Rector has been selected by the Society of Exploration Geophysicists (SEG) to receive its honorary membership, in recognition of his technical contributions, entrepreneurship, dedication to students and service to the SEG.
Paul Ronney (B.S.'78 ME) has been appointed chair of the University of Southern California's Viterbi Department of Aerospace and Mechanical Engineering. His research focuses on topics including micro-scale combustion, turbulent combustion, internal combustion engines, microgravity combustion and fire spread.
Scott Shackleton, the college's assistant dean of capital projects and facilities, has won an Excellence in Management Award from the Berkeley Staff Assembly.
Industrial engineering and operations research professor Zuo-Jun "Max" Shen has been named president of the Production and Operations Management Society.
Barbara Simons (Ph.D.'81 EECS) has received the 2019 Association for Computing Machinery's Policy Award for her long-standing, high-impact leadership as president and founding chair of its U.S. Public Policy Committee, while making influential contributions to improve the reliability of and public confidence in election technology.
Masayoshi Tomizuka, professor of mechanical engineering and associate dean of faculty, has been awarded the prestigious 2020 Nichols Medal in recognition of his pioneering contributions to the control of mechatronic systems.
Civil and environmental engineering professor Iris Tommelein has been elected to the National Academy of Construction, given to engineers who have made distinguished contributions to the construction industry.
Julea Vlassakis (Ph.D.'18 BioE), now a postdoctoral scholar, is one of eight U.S. scholars who received a 2020 Burroughs Wellcome Fund Career Award at the Scientific Interface.
Ting Xu, professor of materials science and engineering and of chemistry, was selected as a 2020 fellow of the American Chemical Society's Division of Polymeric Materials: Science and Engineering.
Bioengineering professor Michael Yartsev has been named the recipient of the Rising Star Award in neuroscience research from the Mahoney Institute for Neurosciences in the Perelman School of Medicine at the University of Pennsylvania.
Civil and environmental engineering senior Karilin Yiu was chosen for the National Academy of Construction's first-ever academic scholarship. She was recognized for leading the Virtual Design and Construction Competition Team and the UC Berkeley Sustainable Solutions Competition Team, as well as for her outstanding academic record.
Tarek Zohdi, professor of mechanical engineering, has received the Humboldt Research Prize in the area of mechanics. The prize recognizes renowned researchers outside of Germany whose "fundamental discoveries, new theories or insights have had a significant impact on their own discipline and who are expected to continue producing cutting-edge achievements in the future."