Dean's note: The CHIPS Act: A call to action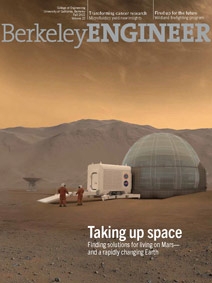 November 7, 2022
This article appeared in
Berkeley Engineer
magazine,
Fall 2022
The landmark CHIPS and Science Act of 2022 passed by Congress and signed by President Biden this summer was a clear signal that the country's leaders are intent on regaining leadership in semiconductor manufacturing, as a secure supply of leading-edge computing chips is necessary to ensure the nation's long-term economic competitiveness and national security.
Berkeley Engineering will play a prominent role in efforts to address the workforce needs of the U.S. semiconductor industry.
For universities and colleges across the country, this legislation is a call to action to educate and train more students for the many tens of thousands of new semiconductor manufacturing and R&D jobs expected to be created over the next few years.
Expanding the skilled labor force with such speed and scale requires collaboration across institutions and close partnerships with industry, which is why I've been spearheading the American Semiconductor Academy (ASA) initiative over the past year. Working with the industry association SEMI, the ASA planning team comprises faculty from dozens of universities and community colleges across the country, including many minority-serving institutions.
I advocated for the establishment of a national network for microelectronics education in a Mercury News op-ed and while testifying before the House Committee on Science, Space, and Technology. ASA-SEMI laid out a vision for fueling American microelectronics innovation and growth that was endorsed by more than 40 industry executives. This initiative led to the appropriation of $200 million for the CHIPS for America Workforce and Education Fund via the National Science Foundation (NSF).
But to be successful, simply increasing the number of engineers is not enough. We must also increase the diversity of the engineering teams designing technologies that will shape our future. Research shows that diverse teams are more creative and effective because they comprise a wider range of viewpoints and skills. That's why CHIPS for America includes minority-serving institutions and STEM education in rural communities.
Berkeley Engineering will no doubt play a prominent role in national efforts to address the workforce development needs of the U.S. semiconductor industry. I will continue to provide input in the national interest as a member of the NSF Engineering Advisory Board and the Industrial Advisory Committee advising the secretary of commerce on domestic semiconductor R&D. We will share details as they emerge, so please stay tuned.
Fiat Lux — and GO BEARS!

Tsu-Jae King Liu
Dean and Roy W. Carlson Professor of Engineering