New & noteworthy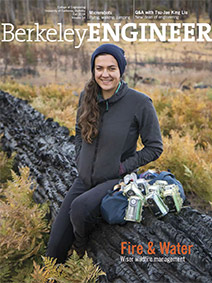 November 14, 2018
This article appeared in
Berkeley Engineer
magazine,
Fall 2018
Lisa Alvarez-Cohen, professor of environmental engineering, has been appointed vice provost for academic planning at UC Berkeley. She currently serves as chair of the Academic Senate and co-chair of Berkeley's strategic planning steering committee.
Andrew Alleyne (M.S.'92, Ph.D.'94 ME) received the prestigious American Automatic Control Council's Engineering Practice Award for his "pioneering contributions to modeling, simulation and control of dynamic thermal systems and their applications in aerospace, automotive and building control industries." He is a professor of mechanical science and engineering at the University of Illinois at Urbana-Champaign.
Photo: Bill Bowman
Nancy Amato (M.S.'88 CS) has been named head of the computer science department at the University of Illinois at Urbana-Champaign — the first woman to lead the department. She will be coming to the university from Texas A&M University, where she has taught since 1995, with a research focus on robotics, parallel algorithms and bioinformatics.
James Ang (M.S.'84, Ph.D.'86 ME) has joined the Department of Energy's Pacific Northwest National Laboratory as chief scientist for computing. He will also be the lab's contact for the Advanced Scientific Computing Research mission.
Sanjeev Arora (Ph.D.'04 EECS) and Umesh Vazirani (Ph.D.'86 CS) were elected as members of the National Academy of Sciences. Arora is a professor of computer science at Princeton University. Vazirani, an electrical engineering and computer sciences professor at Berkeley and director of the Berkeley Quantum Computation Center, is one of the founders of the field of quantum computing.
Robert Bachman (B.S.'67, M.S.'68 CE) and Edward Kavazanjian Jr. (D.Eng.'78 CE) were named as Distinguished Members of the American Society of Civil Engineers, the organization's highest honor. Bachman, who has his own structural engineering practice, has played a leading role in the development of landmark seismic provisions in California. Kavazanjian is professor of geotechnical engineering at Arizona State University and director of the Engineering Research Center for Bio-Mediated and Bio-Inspired Geotechnics.
John Bischof (B.S.'87, M.S.'89 BioE, Ph.D.'92 ME) has been appointed director of the University of Minnesota Institute for Engineering in Medicine. He has been a member of the university's mechanical engineering faculty since 1993, conducting research on thermal bioengineering and nanomedicine.
Alice Agogino honored with presidential award
Award for Excellence in Science, Mathematics and Engineering Mentoring (PAESMEM), the government's highest honor for mentors who have worked to expand talent in science, technology, engineering and mathematics (STEM). Since joining the Berkeley faculty, Agogino has mentored hundreds of students as well as numerous junior faculty. Nearly half of her graduate student mentees are from groups underrepresented in STEM. To further support engineering students at Berkeley, Agogino has also created a tiered mentoring network, in which senior doctoral students advise masters and undergraduate students. In addition to her efforts on campus, Agogino has worked with local schools, museums and organizations to engage K-12 students in STEM topics.
Photo: Noah Berger
Eric Brewer (B.S.'89 EECS) and James Demmel (Ph.D.'83 CS) of the Department of Electrical Engineering and Computer Sciences have been elected to the American Academy of Arts and Sciences. Brewer, professor emeritus of computer sciences and vice president of infrastructure at Google, is considered one of the most influential architects of the internet. Demmel, who currently chairs the department, is known for his research in adaptive, high-performance linear algorithm software.
Bioengineering doctoral student Thomas Carey was named winner of the Diagnostics World Early Innovator Award for his project on late-stage cancer diagnosis. He and his colleagues are developing a low-cost microfluidic-based platform to detect the presence of biomarkers present in virtually every fluid.
Soumen Chakrabarti (M.S.'92, Ph.D.'96 CS) and Sunita Sarawagi (Ph.D.'96 CS) have been named to Analytics India Magazine's list of top 10 machine learning researchers in India. Both are currently computer science professors at Indian Institute of Technology Bombay.
Environmental engineering doctoral student Joseph Charbonnet won first place in the UC system's "Slammys," a competition where graduate students explain their research in less than three minutes. His winning presentation described using manganese-coated sand to capture, clean and re-use stormwater, with the aim of diminishing storm damage and replenishing depleted aquifers.
Four engineering professors have been selected for the Bakar Fellows Program, which supports faculty working to apply scientific discoveries to real-world issues: Steven Conolly, professor of bioengineering and of electrical engineering and computer sciences; David Schaffer, professor of bioengineering, of molecular and cell biology and of chemical and biomolecular engineering; Ming Wu (M.S.'86, Ph.D.'88 EECS), professor of electrical engineering and computer sciences; and Ting Xu, professor of materials science and engineering and of chemistry.
Anca Dragan and Raluca Ada Popa, assistant professors in the Department of Electrical Engineering and Computer Sciences, have been named 2018 Sloan Research Fellows, an honor for "early-career scholars whose achievements mark them as among the very best scientific minds working today." Dragan runs the InterACT lab and researches artificial intelligence and robot-human interactions; Popa is co-founder of the RISELab, where she researches computer security, systems and applied cryptography.
Susan Eggers (Ph.D.'89 CS) has received the 2018 ACM-IEEE CS Eckert-Mauchly Award, the first woman so honored in the award's 39-year history. A professor at the University of Washington, she was cited for "outstanding contributions to simultaneous multithreaded processor architectures and multiprocessor sharing and coherency."
Nicolas Fawzi (Ph.D.'07 BioE), assistant professor at Brown University, and Sapun Parekh (Ph.D.'08 BioE), group leader at the Max Planck Institute for Polymer Research in Mainz, Germany, are collaborating on a project to study membraneless organelles, thanks to a grant from the Human Frontier Science Program. "We never would have done this if we hadn't met as Ph.D. students in the same entering class together at Berkeley and in the Berkeley-UCSF program," said Fawzi.
Ken Goldberg, professor of industrial engineering and operations research and of electrical engineering and computer sciences, has received the Chancellor's Award for Faculty Research in the Public Interest for his work with a team of postdoctoral, graduate and undergraduate students that has spent the past four years developing the Collaborative Assessment and Feedback Engine (CAFE).
Andrea Goldsmith (B.S.'86 EMS, M.S.'91, Ph.D.'94 EECS) has won the IEEE Eric E. Sumner Award "for contributions to the fundamental understanding and innovation in adaptive and multiple antenna techniques for wireless communication networks." She is a professor of electrical engineering at Stanford University.
Elizabeth Hausler (M.S.'98, Ph.D.'02 CEE) received the Campanile Excellence in Achievement Award from the UC Berkeley Foundation and the Cal Alumni Association, in recognition of her work as the founder and CEO of Build Change.
Christopher Hegarty (M.S.'90, Ph.D.'91 EECS) has been named chief executive officer of ANCA Group, a leading manufacturer of CNC grinding machines.
Mechanical engineering professor and department chair Roberto Horowitz (B.S.'77, Ph.D.'83 ME) has been honored with the ASME Rufus Oldenburger Medal, in recognition of his significant contributions to control applications in mechatronics, magnetic data storage and traffic systems.
Philip Lee (Ph.D.'06 BioE) is the co-founder and chief operating officer of Senti Bio, which is developing a design platform for synthetic gene circuits that can rapidly design, build and test various therapeutic circuits.
John DeNero named top teacher
John DeNero, the Giancarlo Teaching Fellow in the Department of Electrical Engineering and Computer Sciences, has been selected for the Distinguished Teaching Award, one of Berkeley's highest honors. As the instructor for two of the largest courses on campus — introductory computer science for majors and introductory data science — DeNero is known as an engaging teacher who makes big classes feel personal. He has also developed an innovative approach, including automated technologies and a cadre of student instructors and mentors, to keep the material accessible and the courses running smoothly.
Photo: Doug Birnbaum
Jitrenda Malik, professor of electrical engineering and computer sciences, has won the International Joint Conference on Artificial Intelligence's 2018 Award for Research Excellence. The award honors the high quality research he has consistently produced over the course of his career.
Mechanical engineering graduate student Jonathan McKinley won the 2018 USA Triathlon Collegiate Club National Championships, besting 800 competitors for the honor.
Larry Nagel (B.S.'69, M.S.'70, Ph.D.'75 EECS) has won the IEEE Donald O. Pederson Award in Solid State Circuits. He was cited for "the development and demonstration of SPICE as a tool to design and optimize electronic circuits."
Brittany Nelson-Cheeseman (M.S.'07, Ph.D.'09 MSE) was awarded the 2018 Undergraduate Research Award at the University of St. Thomas, where she is an assistant professor, for demonstrating impactful faculty-student collaboration in undergraduate research. "I personally see [undergraduate research] as really mentoring and making sure that your students do research that's meaningful to them, that's meaningful to the greater world," she said.
Edward Rice (B.S.'49, M.S.'51 CE) has received the American Concrete Institute's highest honor — ACI Honorary Membership — for his extraordinary contributions to the concrete field and service to the institute. He has been a member of the institute for more than 65 years and became a fellow in 1997.
Clyde Rodriguez (B.S.'95 EECS) returned to his alma mater, Madera High School, to deliver the keynote speech at the graduation ceremony in June. In it, he recounted his own journey from immigrant farmworker to tech executive, and encouraged graduates to "be bold, be fearless, fight comfort, write your next chapter."
Aviad Rubinstein (Ph.D.'17 CS) received the Association for Computing Machinery's 2017 Doctoral Dissertation Award. In his thesis, he established the intractability of the approximate Nash equilibrium problem, an enduring problem in theoretical computer science. He recently became an assistant professor at Stanford University.
S. Shankar Sastry (M.S.'79, Ph.D.'81 EECS) was awarded the Berkeley Citation, one of the university's highest honors, during Berkeley Engineering's 2018 graduate commencement ceremony. The award was in recognition of his leadership and numerous contributions to the college and campus community.
Scott Shenker, professor of electrical engineering and computer sciences, has been named recipient of the ACM Paris Kanellakis Theory and Practice Award, in honor of his pioneering contributions to fair queueing in packet-switching networks, which have had a major impact on modern computer communication and have been fundamental to the growth of the internet.
Ikhlaq Sidhu, professor of industrial engineering and operations research and faculty director and chief scientist at the Sutardja Center for Entrepreneurship and Technology, has been awarded the 2018 Major Education Innovation Award by the IEEE Educational Activities Board for his contributions in entrepreneurship pedagogy and innovative teaching methods.
Mark Stacey became the new chair of the Department of Civil and Environmental Engineering, replacing outgoing chair Robert Harley. A member of the faculty since 1996, he currently heads a National Science Foundation project to examine infrastructure resiliency in California.
Kristin Stephens-Martinez (M.S.'13, Ph.D.'17 CS) is a new assistant professor of computer science at Duke University. Her research is focused on the intersection of education and computer science, using data available in large classrooms, both local and MOOCs.
Masayoshi Tomizuka, professor of mechanical engineering, received the American Automatic Control Council's Bellman Heritage Award for his seminal and pioneering contributions to the theory and practice of mechatronic systems control. The award is the highest lifetime achievement honor for a control system engineer or scientist.
Photo:  Peg Skorpinski
Ram Vasudevan (B.S.'06, M.S.'09, Ph.D.'12 EECS) has received the 2018 Young Investigator Award from the Office of Naval Research. He is an assistant professor of mechanical engineering at the University of Michigan.
Andrew Whittaker (M.S.'85, Ph.D.'88 CE) has been honored as a SUNY Distinguished Professor, the highest faculty achievement in the State University of New York system. He joined the faculty at the University at Buffalo in 2001, and his research focuses on earthquake and blast engineering of buildings, bridges, nuclear facilities and other critical infrastructure.
Paul Wing (M.S.'66, Ph.D.'71 IEOR) supports STEAM programs in New York's Bethlehem School District, providing grants to fund technology upgrades in classrooms, robotics programs, 3-D printers and an aerial photography program. He also created a district-wide STEAM committee and volunteers at an after-school program at an elementary school.
Margaret Yau (B.S.'04 EECS) has been named professor of the year by Crafton Hills College, a community college in Yucaipa, California. She has taught computer science and computer information systems at the college since 2011, after earning an M.S. in computer science from the University of California, San Diego.
Bin Yu, professor of electrical engineering and computer sciences and of statistics, has won the Committee of Presidents of Statistical Societies' Elizabeth L. Scott Award, which is given to an individual who has fostered opportunities for women in statistics.