Dean's note: Coming together as a community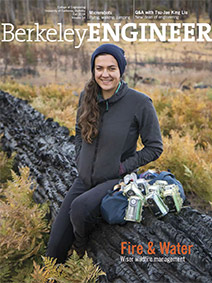 November 14, 2018
This article appeared in
Berkeley Engineer
magazine,
Fall 2018
Dean Tsu-Jae King Liu welcomes a group of new students from the Management, Entrepreneurship, & Technology undergraduate program during student orientation. The engineering and business dual-degree program is now in its second year. (Photo by Noah Berger)At the beginning of this semester — my first as dean — I had the pleasure of welcoming more than a thousand new engineering undergraduates during student orientation. It was a wonderful opportunity to reflect upon the college's strong tradition of impact and look forward to a brighter future shaped by Berkeley engineers. Throughout the course of the semester, I have enjoyed meeting many other students, as well as alumni, parents and friends of Berkeley Engineering at various events. The enthusiasm and creative energy of students, impressive achievements and impactful contributions of alumni and strong support of parents and friends is truly inspirational — and they are in turn inspired by our outstanding faculty and dedicated staff, who are critical to the success of our mission.
Key to innovation with impact is the identification of important problems that are most worthwhile to solve. In consideration of global trends such as urbanization, increasing average life expectancy and the proliferation of information and communication technology, grand challenges for our society will respectively include environmental sustainability, human health and well-being and digitalization — all of which are intertwined with the issue of inequality. These are complex problems that transcend disciplinary, socioeconomic, cultural and political boundaries. To come up with effective solutions, we must bring together a diversity of perspectives, experiences and skills. In other words, Berkeley Engineering should be a place of convergence that results in new innovations, companies and industries, along with new knowledge and new graduates. You can read more about my goals with regard to diversity and inclusion in the Q&A in this issue of Berkeley Engineer.
"To come up with effective solutions, we must bring together a diversity of perspectives, experiences and skills."
As the university's sesquicentennial celebration draws to a close, we should keep in mind that our ongoing success is tied to the well-being of our campus community as a whole. In my previous role as vice provost, I met people from across campus who were struggling with the effects of inadequate resources in the university, lack of affordable housing and food insecurity. We should be aware of and empathetic with the struggles of our fellow community members, and seek opportunities to help them much the same as we aim to help people in other parts of the world.
I look forward to working with you all to ensure that Berkeley Engineering will shine and continue to be a beacon of light for the world through the next 150 years!
Tsu-Jae King Liu
Dean and Roy W. Carlson Professor of Engineering